#BeSeenBeHeard
What does your 'S' stand for?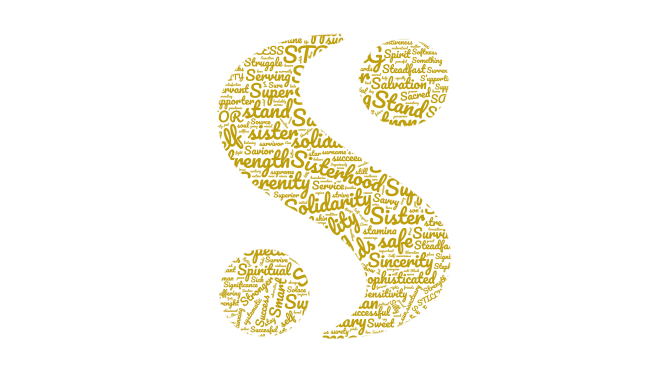 "As a Single mother of an African American young man, I rely on my Strength and Faith to help get us both through life on a daily basis. My Son is educated, kind and respectable; however, sometimes that is overlooked by the color of his Skin."
Nichole
"Working in the public school system it's easy to get discouraged from the disparity between urban and suburban schools. I know our kids deserve everything suburbia has and I work hard daily to help them get it."
LaVera
"Strength is when it feel like the world is
against you and you still find yourself still standing."
Gretchen
"Being a nurse on the front lines during this pandemic has truly shown me the true meaning of strength. No matter what you feel, no matter how scared you are, you must find the strength to keep going and pushing through it all.
Trina
"I use my voice to stand up for people outside of my community. I make my voice and my stance heard.
Chris
"I'm beginning my journey to self love. For many years I have put everyone else first. Two weeks ago I decided to work on me. I've began a nutrition and weight loss program that is slowly becoming a lifestyle change. I feel better than I have in years. It's not easy but I am strong and I am going to get to my goal!" 
Sylvia
"Everything I am is something I owe for the people around me. Laughter. Wisdom. Peace. It all comes from the solidarity of the community around me."
Anna
"As long as I can remember I have always stood for peace love and togetherness, all inclusive. My work in the community has always strategize to bring all cultures together so that we can remove the fears of the unknown. I want to create a world of solidarity and love through my charitable efforts."
Rose
"I stand in solidarity with my African American friends."
Archana
"We must all stand up for equal rights, treatment and dignity for all people. SOLIDARITY with those who fight this battle."
Paula
"Standing with others to say we've had enough #blacklivesmatter"
Brittany
"In The Netherlands where I live they say that there is no racism. They do not realize what it means not to be accepted because we are not white. I have a mixed background. Our three daughters have mixes marriages. It will take time to change the way we look at each other but I am confident that one day we will be able to respect each other and live in peace."
Margareth
"Not only is 'S' the first letter of my name, but it stands for so much more: I AM SIU, I AM A SURVIVOR! About ten years I almost died from an auto immune disease. That sickness not only almost killed me, it took away from me everything, my ability to speak, walk, eat, even think. Though it took years, to get back to myself, I made it, I survived."
Siu
"An African -American Women with Sickle Cell Disease. I've made it to 27 after 4 surgeries, including an open heart surgery, and I'm not stopping. I'm fight for myself and for people like me."
Jenai
"I have survived cancer and growing up in impoverished Inglewood, California. I have survived generational curses and my unfortunate childhood traumas. I have survived the cards stacked against me and the odds that were not in my favor. I. Am. A. Survivor!"
Donnisha
"My S is for Survivor..I survived a DVT and Plumonary Embolism TWICE!! Honestly it was my love of sports and reading stories of athletes who had survived and their symptoms that led me to the ER. This was after going to an urgent clinic and being dismissed. I am a Survivor!"
Andrea
"I am a 2 year cancer Survivor, daughter of a 2 time cancer Survivor and grand daughter of a cancer Survivor."
Linda
"I am multicultural and have struggled through life finding it so hard to find my place. I never know how a situation, job interview, or daily life experience is going to go. How will I be looked at and who am I today? My S stands for surviving life."
Antonia
"My S stands for Sister. My sister who is strong, beautiful and relentless. She is always there to listen and always gives her honest opinion, whether or not it might be something I don't want to hear. She's my BIG sister, my sister in Christ and I love her dearly. She is a gift that I will alway respect and treasure."
Charlene
"Through thick and thin my biology and friends that are like sisters have always had my back. I may not always agree with them but they all do have my best interest at heart and I for them
Lorns
"I come from a family of women and I was raised to to always show sisterhood no matter the race as my background is very diverse"
Jeremiah
"I believe as women support each other more and more we grow stronger as a sisterhood which benefits the world."
Danni
"Strong Sista whom Supports All who Stand for Truth."
Rochelle
"I am a mother, wife, provider, and all things woman. Especially during these trying times I feel that my 'S' is truly manifested! Thank you for your kindness sharing your S. Peace and Love."
Rose
"I'm 65 yrs old the first in my family clan to graduate from a prejudiced white university with a BS Degree in nursing. I worked in Public Health and a large charity hospital than eventually became a University Hospital for 31yrs. The prejudices that I bared still gives me chills but "MY GOD" I survived. Today because of what I endured I Support the cause, Struggling to understand such injustice, but Saving lives is a must!"
Rosemary
"I was sick with Covid-19 earlier this year and the support I got from my best friends was amazing. They came and checked in my and my kids daily. They brought gloves, masks and even came and made dinner for them a couple of times."
Jenell
"Supporting all causes for Racial Equality and Sharing by volunteering in my community."
Joan
"I am the friend until the end. I stand firm and strong. I support the empowerment of women by living the mantra "each one teach one""
Samantha
"Support in the love and from the strength of my community and giving it back by shopping local, POC and Black owned businesses.
Belen
"Support is always key, especially in difficult times. That is when you actually see who's truly there for one another. I support you and you support me. We support each other - we all should support each other. Not only when it's easy but especially when it is hard."
Masha
Student. Supermom. Self-esteem. Serena.
"I am a school leader, and my s stands for my students. Their parents trust me to support and strengthen them every day and I take that responsibility very seriously."
Meghan
"The children are our future. I have spent 40 years in education teaching eigth grade in NYC and at a local college. I still hear on fb from students i taught 25 years ago. Education is knowledge. Knowledge is power and the only way we can fight the racism that unfortunately still exists today."
Ted
"I'm a single mother to 4 black boys. As an immigrant, coming to America from Trinidad as a little girl was a dream filled with hope and aspirations. However, over the decades, I've learned and experienced that living and raising a black family in America can be scary and life-threatening. Each day I wake I, I embrace my super powers as a mother to ensure I do everything in my will to protect my black boys so they are able to live as freely and happily as they deserve."
Sandra
"As I continue to gain confidence I continue to encourage all plus size woman to love yourself. I make I give my weekly motivational speech. No matter what skin you're in. You are it honey. Always!!"
Nichole
"Always putting others before myself, I found myself lost. It took strength and prayer to rediscover me!!"
Foxy
"Sisterhood, encouragement, relentless, educated, never say no, awesome. Thanks for Serena
Desiree
Share what your 'S' stands for.